Cebu is considered as the best tourist destination in the whole Philippines. Cebu offers variety of scenic attractions and extreme adventures & activities. Most of the visited places in Cebu are located in the south. The most common attraction that you can think of when we talk about southern Cebu, is the famous whale shark watching located in Oslob.
Below are the list of places and activities that you should visit in the South of Cebu.
Oslob Whale Shark Watching

Experience this once in a lifetime activity when you visit Oslob. Whale sharks or the so called gentle giants are friendly sea creatures where you can get close into but you not allowed to touch them. This attraction has become popular online since September 2011.

Sumilon Island and Sandbar

Another place that you can visit in the municipality of Oslob is the private island of Sumilon which is owned by Bluewater Resorts. The island is just 15 minutes away from the whale shark area. You have the option to get into the island through their day tour package, or just visit the sandbar area.

Tumalog Falls

Cebu is a very famous place when we talk about waterfalls. Oslob has its own waterfalls, the Tumalog Falls, which is just 15 minutes from the whale shark interaction area and you can visit this falls through private car or habal-habal (motorcycle for hire). Make sure you do not miss this scenic and beautiful waterfalls.

Inambakan Falls

Located in the municipality of Ginatilan is one of the most beautiful waterfalls in Cebu, the Inambakan Falls. This is a five level waterfalls with a cave behind it. Getting there is through renting a car, or just take a motorcycle from the highway where you can get off the bus from the City.

Dao Falls

Dao falls is another waterfalls found in the south of Cebu, municipality of Samboan. You can hike in a scenic and dramatic waterfall down to a towering limestone wall. Not so many tourists visit this place due to the fact that you will be spending more time in hiking just to get into the falls, but all are worth it, a beautiful waterfall is waiting for you.

Aguinid Falls

Another waterfall that you can find in Samboan is the Aguinid Falls. This falls is composed of 5 level along the Tangob River, each of the level has its own unique cascade.

Kawasan Falls

This is the most famous and most visited waterfall in the south of Cebu. This waterfall is consist of 3 level where each of the level are worth your Instagram pose. Each of the level turns the waterfalls into a swimming pool or lagoon which is accessible via jungle trails. This is also the exit point of the canyoneering activity in Badian.

Canyoneering Adventure

If you love adventure, Canyoneering in Badian is a must do. Do not leave Badian if you have not tried this canyoneering adventure. This activity involves trekking, water sliding, jumping, swimming and many more. The jumps are 15 feet to 45 feet high.

Osmeña Peak

Osmeña Peak is located in the mountains of Dalaguete Cebu. This is the highest peak in the province of Cebu. At the top, you will be able to see the Negros Island and the Bohol Island. Best time to visit there is during sunrise and sunset.

Simala Shrine and Pilgrimage

If you are a religious person and visiting the south of Cebu, then you must include the Simala Shrine and Pilgrimage in your itinerary. The church was never emptied with devotees of Blessed Virgin Mary. The church is open from 8am to 5pm and you can also attend masses during Sundays. You can either rent a car or take a motorcycle from the highway to the Shrine.

Moalboal Sardine Run

One of the famous attraction if you talk about Moalboal is the sardine run. You can either snorkel or scuba dive in this spot. This is just located near the shoreline in Moalboal. The good thing is that you can rent a boat going to Pescador Island and take a side trip to this Sardine Run.

Corals in Pescador Island

One of the best places in Cebu when you talk about corals is in Pescador Island. This is located in Tañon Strait which is just a few kilometers away from the western cost of the Cebu Island.

Turtle Point in Moalboal

Turtles are not just in Apo Island in Negros. If you are in Cebu and you want to see turtles then consider those in Moalboal. Turtle point is just near the area where you can see the sardine run and you can also include this when you visit the Pescador Island. You can also relax at Basdaku White Beach after seeing these turtles.

Carcar Lechon and Chicharon

When you are done with the activities in the south and you are going back to the City with your own rented vehicle, then ask your driver to stop at Carcar for the crispy and delicious Lechon. Also, make sure to buy the famous Chicharon. Everyone is talking about it when they pass by Carcar.
So, that's it. If you have something in mind that you want us to add in the list above, then send us an email at [email protected].
If you also want us to arrange your 2 days 1 night South Cebu Adventure, then you can send us an email at [email protected] or call us at 09562295052.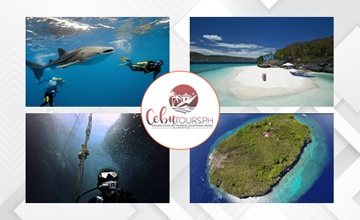 Price starts at ₱ 2850 / person
Price starts at ₱ 2800 / person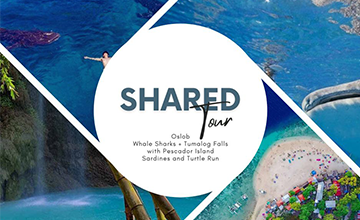 Price starts at ₱ 3400 / person