Cebu Tours is now offering a tour package that will let you experience fun with the whale sharks, Tumalog Falls, Canyoneering Adventure, and Kawasan Falls in Cebu, Philippines. The Whale Shark and Canyoneering tour package will take you to a scenic 2-3 hour ride in going to the town of Oslob, the place where the whale sharks can be found. You will enjoy watching and swimming with the very friendly whale sharks and if you are lucky, you can also see a sea turtle and colorful fishes which are swimming with them. After the whale shark experience, you will be taken to Tumalog Falls which is only a 10 minute ride from the whale shark briefing area. Tumalog Falls has a breathtaking view which is very good for taking pictures.
Once the whale shark and Tumalog Falls are done, you will have another tour activity which is more on adventures. Be excited to do Canyoneering in Badian, one of the most famous tour activities in Cebu. Canyoneering activity will let you scramble, climb, jump, rappel, and swim through the rugged but scenic cliffs of Badian. It might be tiring but it is really fun and worth it to be done. And also, the endpoint of the Canyoneering Activity is the Kawasan Falls which has a three-stage cascading waterfall and considered as one of the most beautiful falls in the entire Philippines. Create unforgettable memories with these tour activities together with the assistance of our local tour guides.
Rates and Inclusions
No of Pax
Rate per Person
Details of the Package
1
₱ 9100

Inclusions: 

Private Tour (16 hours Duration)
Local Facilitator and Guide
Private Air-Conditioned Transportation – Pick up and drop off in any hotel, resort and residences (Cebu City and Mactan Island)
Native Light Breakfast
Lunch with one round of drinks (Soft drinks or bottled mineral water)
Entrance and watching fee
Boat ride (shared) and life vest
Whale shark watching or swimming with the whale sharks
Cool down at Tumalog Falls
Canyoneering Entrance fees, Life jacket, Aqua Shoes, Waterproof Drybag, Bottled Water, Helmets
Government taxes and service charge (except payment transaction service charges)

Exclusions / Add-ons:

Camera Rental (P1000 for GoPro Hero7 and up – SD Card not included) – (bring micro SD Class 10)
Scuba Diving with the Whale sharks (Php 2,500 per head per dive)

2
₱ 5900
3
₱ 5100
4
₱ 4100
5
₱ 4000
6
₱ 3800
7
₱ 3700
8
₱ 3600
9
₱ 3500
10
₱ 3400
11
₱ 3300
12
₱ 3200
13 above
Contact Us
Sample Itinerary:
04:00AM – Pick up Hotel
06:00AM – Arrival in Oslob / Light Breakfast
06:30AM – Whale Shark Watching / Snorkeling
07:30AM – Cool Down at Tumalog Falls
09:00AM – Depart Oslob
10:00AM – Arrival in Badian, Eat lunch
11:00AM – Gear preparation and travel to jump off point
12:00PM – Start of Canyoneering
04:00PM – ETA / End of Canyoneering and Swimming at Kawasan Falls
05:30PM – Depart back to Hotel
08:00PM – Estimated arrival in Hotel
Note: This is just an estimated time. Might changed on the tour date depending on the traffic situation and location of your hotel.
What to Bring
Swim wear
Extra clothes
Personal Necessities
What to Expect
You will be picked up from your hotel early in the morning at around 4 o'clock. Once you arrive in Oslob, you will be taken to this scenic restaurant where you will eat your light breakfast which is already included in the package.
After your breakfast you will swim with the gentle giants in Oslob, the whale sharks, don't panic, they're harmless.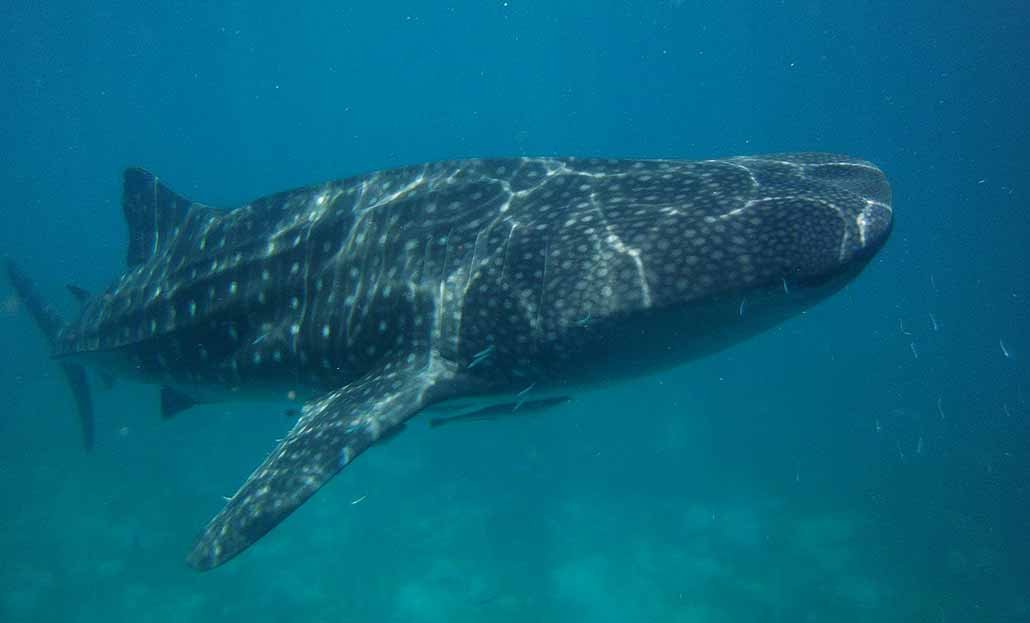 Your next stop will be in Tumalog Falls, you can swim there and take a picture. Always remember to leave nothing but footprints. Let's love the nature.
After Tumalog Falls, you will be back at the restaurant for your lunch. Right after your lunch, you will travel to Badian, where you will be having the canyoneering activity which will end at the Kawasan Falls in Badian.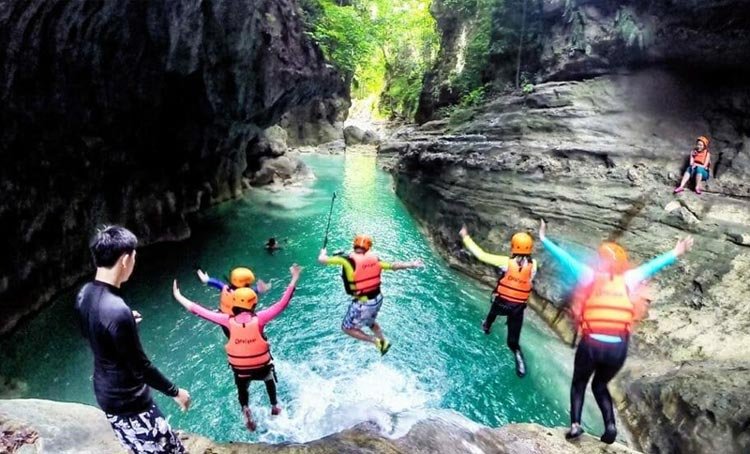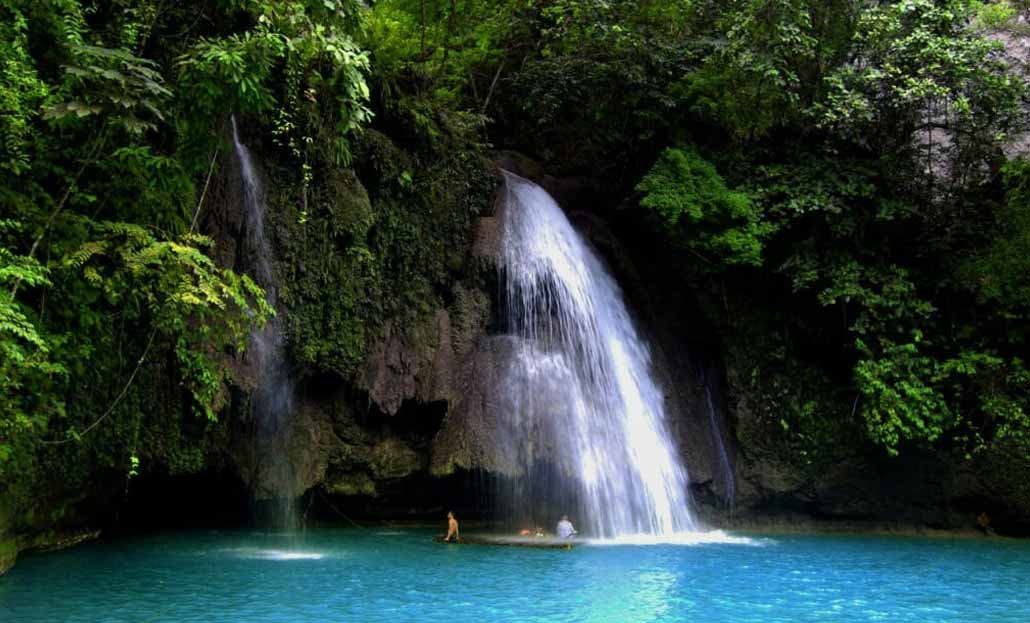 Oslob Whale Shark + Tumalog Falls + Canyoneering Tour Package
Average rating:
6 reviews
Oct 20, 2022
Whale Sharks & Canyoneering + lots of fantastic inclusions....the tour was absolutely awesome. This was the highlight our our Philippines holiday. The booking procedure was quick and efficient. I highlighly recommend this tour company. Definitely hire the go-pro if you don't own your own, it is worth every Peso!
Hi Ms Jacqui, thank you so much for your wonderful review, appreciate it.
Jan 10, 2020
Overall a great day! Be careful as not all guides provide the same experience
Our experience with Cebu Tours was for the large part very positive. Our driver picked us up promptly at 3.30am from Mactan and we had an uneventful, albeit rather long 2.5-3 hour drive to Oslob. On arrival we had a lovely breakfast of mango and sticky rice and met our guide for the morning part of the tour: I think her name was Annalise. She was to be with us for the whale shark watching and tumalog falls visit in the morning. I would say our experience with the guide was the biggest disappointment for us. Her English was not ideal and communication was difficult. Even when we asked basic questions there wasn't really an answer except 'yes' or 'it's ok'. This was rather frustrating as we were surrounded by multiple other couples and groups who had booked with Cebu tours, all allocated guides who were conversing with them regularly, keeping them up to date and most importantly educating them on the area, the whale sharks, the falls, the history of it all and the details of the day. In the end we made friends with another couple who allowed us to ask their guide what we needed but once we were at the whale shark encounter we were once again with only our guide. We were moved from group 47 to 53 without any explanation. She was unable to help us when we enquired about buying wet shoes and when it came to directing us to the boat, there was no direction at all and we nearly missed our boat and sailing out altogether! The experience itself if breathtaking, truly wonderful to swim with the sharks. Our afternoon guide was Tony for canyoneering. My advice, if you're going to Kawasan Falls, do the canyoneering! I was definitely Nervous about the jumps and activity but it is all doable and for any of the jumps, small or big, if you don't want to do them, there is always an alternative route so don't worry. Tony was fantastic!!! He helped us throughout, so much fun and took some really fantastic photos of us with our phones. He was particularly attentive as I was nervous and assisted me well during the tough parts!
Jan 9, 2020
Wonderful Tour Guides and amazing experience.
The tour guides were amazing! Made the entire experience so much fun! Having good tour guides makes a big difference in how you enjoy the experience. The whale shark experience was amazing and to top it off with canyoneering and Kawasan falls was the cherry on top! Enjoyed every second of the experience!
Dec 20, 2019
Kawasan' canyoneering was a very unique experience. A lot of water and adrenalin jump.
The whale watching in Oslob was very interesting, seeing big whale sharks up close for the first time. You need to ask your guide to pre-book the slots for the boat to bring you to where the whale sharks are, else you'll be waiting for sometime along the shoreline for your number to be called. They give you a life jacket which makes it difficult to swim under to see the w-sharks. If you're a good swimmer, you can dispense with the life jackets. Try to book a place to take a shower since there are no shower facilities after the watch.
Kawasan was another interesting activities, which you can do after the w-watching. After some briefing, they take you to the starting point by motorcycles. Then the canyoneering starts. The whole activity lasted around 4 hours give or take. A lot of cliff dive from a few meters to the highest just next to the falls. Definitely worth it for water lovers.
Nov 12, 2019
Amazing Experience!!
Truly a fabulous time on this tour. The driver picked me up on time and I enjoyed having the car to myself and being able to leave things secure in the car between activities was even better. The tour guides throughout the day were very attentive and took great care of me. They answered all my questions and made sure I was comfortable the whole day. My absolute favorite was swimming with the whale sharks. I also enjoyed the canyoneering but it was 4 hours long and wished I had been more prepared for how physically demanding it was. In the end I wouldn't change a thing!!
Sep 14, 2019
Memories & videos to last a lifetime.
I spent 17 days in the Philippines for vacation and had the best time of my life. Everything from the sites to the food and people were great. This tour was the best part of my trip. Its amazing what you get for this small price.
You are almost there, please fill up this form below

0%
Compare Similar Tours & Experiences