This unique package is now offered by Cebu Tours which was requested by most of our guests. You can now visit two of the famous tourist's town in the south of Cebu, the Oslob and Moalboal in just one day. The package will let you visit all the tourist destinations found the two towns, namely, the Oslob whale sharks, Tumalog Falls, Pescador island, sardine run, and the turtle chasing. If you are lucky enough, you will be able to see dolphins in Moalboal while you are on your way to the island.
What makes this package unique to others?
We do the tour by ourselves, from the driver, tour guide, etc. and we can assure you that we will take good care of every guest that we will be having in this tour. You will be meeting with Cebu Tours team from the moment you step outside of your hotel until you will be safely back at night to your hotel right after you do all the said activities. So what are you waiting for? Book now.
Rates and Inclusions
No of Pax
Rate per Person
Details of the Package
1
₱ 10500

Inclusions:

One Day Tour (15 hours duration)
Local facilitator and Guide
Light breakfast upon arrival in Oslob
Lunch with one round of drinks (Soft drinks or bottled mineral water)
Entrance and watching fees
Boat ride and life vest
Towel
Cool down at Tumalog Falls
Private Boat for Pescador island sightseeing (3-4hours duration)
Life vest and snorkel
Boatman crew as guide for your island sightseeing
Snorkeling and fish feeding in Pescador Island in Moalboal
Snorkeling in Marine Sanctuary with wide variety of Fish, Corals and Marine Turtles
Snorkeling with sardine run and turtles at Talisay point
Dolphin watching (weather dependent)
Government taxes and service charge (except payment transaction service charges)
Snorkeling or Swimming Fee with the whale sharks

Rate Exclusions and/or Add-ons:

Camera Rental (P1000 for GoPro Hero5 and up – SD Card not included) – (bring  micro SD Class 10)

2
₱ 5800
3
₱ 4200
4
₱ 3600
5
₱ 3300
6
₱ 2800
7
₱ 2600
8
₱ 2500
9
₱ 2400
10
₱ 2300
11
₱ 2300
12
₱ 2200
13 above
Contact Us
Sample Itinerary:
04:00 AM – Pick up Hotel
06:30 AM – Arrival in Oslob
07:00 AM – Light Breakfast
08:00 AM – Whale Shark Watching / Snorkeling
09:00 AM – Cool down at Tumalog waterfalls
10:00 AM – Early lunch or pack the lunch
11:00 AM – Depart for Moalboal
12:30 PM – Start of Island Hopping Tour
03:30 PM – End of Island hopping
04:00 PM – Depart back to Hotel
07:00 PM – Estimated arrival in Hotel
Note: This is just an estimated time. Might changed on the tour date depending on the traffic situation and location of your hotel.
What to expect
First, you will be picked up from the hotel at 4 o'clock in the morning, which might change depending your hotel location. You will then travel to Oslob using our car which is exclusive to your group with our experienced tourist driver. Once you reached Oslob, you will be taking your light breakfast which is included in the package.
After your light breakfast, the first activity that you will be doing is the whale shark watching.
After the whale shark watching, you will be visiting the Tumalog falls which is just few minutes away from the whale shark area with our exclusive car transfer and our local tour guide.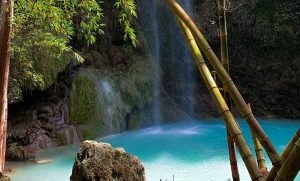 After Tumalog falls, you will be taken to the restaurant for your lunch which is included in the package. Right after the lunch, it is time for you to travel to  Moalboal to do the Pescador Island hopping with sardines run and chasing of turtles.
Right after Moalboal, you will be going back to your hotel in the city with our  exclusive car transfer and experienced driver. I hope you enjoy your day!
You are almost there, please fill up this form below

0%
Compare Similar Tours & Experiences