Instead of just snorkeling with the whale sharks in Oslob, you can also do scuba diving with these gentle giants. Doing scuba diving allows you to stay longer under the water and see the whole body of the whale sharks clearly. With this activity, there will be a dive master that will assist you in the water and you can also get many nice pictures with the whale sharks. After the scuba diving with the gentle giants, you will be brought to Tumalog Falls which is only a 10 minute ride from the whale shark area. If you are into taking pictures, you will surely enjoy visiting Tumalog Falls because it is a big waterfall which has a very breathtaking view.
Rates and Inclusions
No of Pax
Rate per Person
Details of the Package
1
₱ 8500

Inclusive: 

Private Air-Conditioned Vehicle – Pick up and drop off in any hotel, resort and residences (Cebu City and Mactan Island)
One dive
Full Diving Equipment Rental or Tank and Weights Rental Only
Government diving fee, entrance fee and all other fees
Breakfast upon arrival in Oslob
Lunch with one round of drinks
Guide with diving master
Side trip to Tumalog Falls
Government taxes and service charge (except payment transaction service charges)

What to Bring: 

Extra Clothes
Extra Bottled Water
Under water camera if you have one

Exclusions / Add-ons:

Camera Rental (P1000 for GoPro Hero7 and up – SD Card not included) – (bring micro SD Class 10)

2
₱ 6200
3
₱ 5700
4
₱ 5500
5
₱ 5300
6
₱ 5200
7
₱ 5000
8
₱ 4900
9
₱ 4700
10
₱ 4500
11
₱ 4400
12
₱ 4350
13 above
Contact Us
Sample Itinerary:
04:00AM – Pick up from your Hotel
07:00AM – Light Breakfast at Oslob Whale Shark Briefing Area
07:30AM – Briefing with the dive master and one hour dive
09:00AM – Go to Tumalog Falls
10:00AM – Lunch
11:00AM – Go back to the City
02:00PM – Arrival in the Hotel
Note: This is just an estimated time. Might changed on the tour date.
What to expect
First, you will be picked up from the hotel at 4 o'clock in the morning, which might change depending your hotel location. You will then travel to Oslob using our car which is exclusive to your group with our experienced tourist driver. Once you reached Oslob, you will be taking your light breakfast which is included in the package.
After your light breakfast, the first activity that you will be doing is the scuba diving with the whale shark. This package includes already all the necessary equipment needed for your scuba diving.
After the diving with the Oslob whale sharks, you will be visiting the Tumalog falls which is just few minutes away.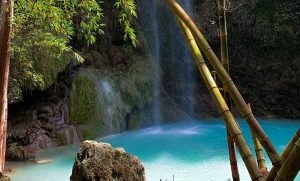 After Tumalog falls, you will be taken to the restaurant for your lunch which is included in the package. After the lunch, you will be going back to your hotel. I hope you enjoy your day!
You are almost there, please fill up this form below

0%
Compare Similar Tours & Experiences