Cebu Tours is now offering a tour package in which you can watch and swim with the Oslob whale sharks, snorkel and take pictures in the beautiful island of Sumilon, snorkel in the beautiful corals in Pescador, swim with the sardines and turtle in Moalboal in just a day. Yes, it is really possible to visit all of these most visited places in southern Cebu for only a day. It might be a long drive going to Oslob but you can still enjoy the scenic 2-3 hour drive from your hotel.
Don't miss the biggest fish and mammal in the sea so take the chance to swim with the Oslob whale sharks. After that, relax yourself and witness the breathtaking view of Tumalog Falls, a 300 ft high waterfall which is also a great place for taking amazing pictures. You can also have fun in the clear azure waters and pristine white sands of Sumilon Island sandbar. This place is not only for snorkeling, you can take nice pictures and do sunbathing, too. And of course, isn't it wonderful if you take an underwater picture with the sardines around you. Are you excited?
Rates and Inclusions
No of Pax
Rate per Person
Details of the Package
1
₱ 11200

Inclusions:

Private Tour (16 hours Duration, excess hours are chargeable)
Private Transportation with Experienced Driver
Local Guide
Light breakfast
Lunch with softdrinks or water
Whale shark watching or Snorkeling fees
Tumalog Falls (entrance fee included)
Motorboat going to Sumilon Sandbar (Shared)
Sumilon sandbar entrance fees
Private Pumpboat with Boat Crews to Pescador Island
Snorkels, Masks and Lifevest
Snorkeling in the fish sanctuary
Sardine Run
Turtle Point (not guaranteed)
Government taxes and fees

Exclusions / Add-ons:

Camera Rental (P1000 for GoPro Hero5 and up – SD Card not included) – (bring  micro SD Class 10)

2
₱ 6400
3
₱ 4800
4
₱ 4000
5
₱ 3600
6
₱ 3500
7
₱ 3300
8
₱ 3100
9
₱ 3000
10
₱ 2950
11
₱ 2900
12
₱ 2850
13 above
Contact Us
Sample Itinerary:
04:00AM – Hotel pick up from Cebu City or Mactan
06:30AM – ETA Oslob / Eat Breakfast
07:00AM – Swim with the whale sharks
07:30AM – Visit Tumalog Falls
09:00AM – Go to Sumilon Island Sandbar
10:30AM – Go Back to Mainland
11:00AM – Lunch (included in the package)
12:00PM – Proceed to Moalboal for Island Hopping
01:30PM – Arrival in Moalboal
04:30PM – Go back to Hotel in Cebu City
07:30PM – Estimated Drop off Hotel in Cebu City
Note: This is just an estimated time and might be change on the actual tour date depending on the number of people on the site. Pick up time will also changed during peak season. 
What to expect
First, you will be picked up from the hotel at 4 o'clock in the morning, which might change depending your hotel location. You will then travel to Oslob using our car which is exclusive to your group with our experienced tourist driver. Once you reached Oslob, you will be taking your light breakfast which is included in the package.
After your light breakfast, the first activity that you will be doing is the whale shark watching.
After the whale shark watching, you will be visiting the Tumalog falls which is just few minutes away from the whale shark area.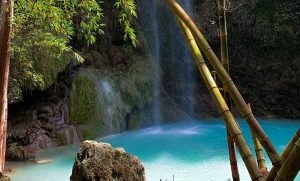 After Tumalog falls, you will visit to the famous sandbar in Oslob, the Sumilon island sandbar.
From the sandbar, you will be taken to the restaurant for your lunch which is included in the package. Right after the lunch, it is time for you to travel to Moalboal to do the Pescador Island hopping with sardines run and chasing of turtles.
That's it! After Moalboal, you will be going back to your hotel with our car and driver. I hope you enjoy your day!
Oslob Whale Shark + Sumilon Sandbar + Pescador Island
Average rating:
2 reviews
Oct 20, 2022

Highly recommended


Thank you Cebu Tours for making our Moalboal-Oslob Cebu trip memorable and hassle free.


The overall arrangement is the best. room accommodation at Vangie's Homestay has a very nice view for the sunrise having clean rooms and accommodating staffs.


Had an amazing trip in Oslob as well with the assistance of our guide Ms Cheryl - very kind, accommodating and approachable with much effort to take good photos of us in every destinations


Thanks to Sir Mar our exclusive trip driver that is very patient having that safe and long drive, back and forth to Cebu City.


Special thanks to Sir Aldrin who is also very patient on accommodating our multiple concerns, questions and requests, you made our trip really memorable.


Will surely book again here at Cebu Tours for the best trip arrangements.

You are very welcome Ma'am. And thank you also for your wonderful review, we appreciate it./Aldrin ☺️
Aug 27, 2019
Awesome experience at the whale sharks! You get to swim with them for about 30 minutes but be prepared to compete with 15 other people on your same boat.

Tumalog falls got canceled because it was rainy it was too slippery. However we found out from a different tour guide on a different day that Tumalog falls is actually dried up at the moment and even showed us videos of the dried up falls 🙁

Pescador island for snorkeling was AWESOME! Best snorkeling we have ever encountered. The marine life here in Philippines is just so so healthy. However, we went during a rainy day so the waves were extremely choppy. Because of that, we were not able to use boats to get to the reefs, so instead we swam!! Omg I feel like we swam for about an hr in choppy waves so it was extremely exhausting!

After seeing the reefs, we swam to the sardine run, where the waves were choppy as well. After we were done my legs felt like jello (and I feel like I'm a pretty okay swimmer).
You are almost there, please fill up this form below

0%
Compare Similar Tours & Experiences