NOTICE (June 2, 2023): Badian canyoneering adventure & Kawasan falls are closed starting June 3, 2023 until further notice for renovation. Alternatively, you can do the Kabutongan falls canyoneering adventure (but without Kawasan falls access), with no additional cost.
If you are into adventures and you love nature scenery, Osmeña Peak and Canyoneering tour package is a good choice for you. Before doing the canyoneering activity, our experienced driver will bring you to Osmeña Peak of Dalaguete. Osmeña Peak is considered as the highest mountain in Cebu, Philippines which has  a cluster of green jagged hills like a deformed twin of Chocolate hills of Bohol hugging the shorelines of Badian. It has a breathtaking view that gives you a chance to feel peace of mind and take nice pictures. After relaxing in  Osmeña Peak, you will be taken to Badian for your canyoneering activity. Together with our local tour guide, you can scramble, climb, jump, rappel, and swim through the rugged but scenic cliffs of Badian. Take the chance to enjoy the refreshing water as you do this activity. And also, canyoneering activity will be ended in Kawasan Falls, one of the most visited waterfall in the Philippines. Have a cold swim in the fresh, crystal clear spring water of Kawasan Falls.
Rates and Inclusions
No of Pax
Rate per Person
Details of the Package
1
₱ 7500

Inclusions: 

Private Tour (14 hours Duration, excess hours subject for additional charges)
Local Facilitator and Guide
Private Air-Conditioned Transportation (from the City to Dalaguete to Badian)
Complimentary Lunch
Motorbike ride to jump off point
Entrance and parking fees
Life jacket
Aqua Shoes
Helmets
Waterproof Drybag
 Bottled Water
 Government taxes and service charge (except payment transaction service charges)

Exclusions / Add-ons:

Camera Rental (P1000 for GoPro Hero7 and up – SD Card not included) – (bring micro SD Class 10)

2
₱ 4900
3
₱ 4000
4
₱ 3500
5
₱ 3200
6
₱ 3000
7
₱ 2900
8
₱ 2800
9
₱ 2700
10
₱ 2500
11
₱ 2450
12
₱ 2400
13 above
Contact Us
Sample Itinerary:
05:00AM – Pick up Hotel in Cebu
07:00AM – Arrival in Osmeña Peak
08:30AM – Proceed to Badian for Canyoneering
10:00AM – ETA at Badian and prepare for Canyoneering
11:30AM – Start of Canyoneering
03:30PM – End of Canyoneering Activity
04:00PM – Prepare for going back to the city
07:00PM – ETA in Cebu Hotel
Note: Schedule above might be changed on the tour date depending on the traffic situation.
What to expect
First, you will be picked up from the hotel at 5 o'clock in the morning, which might change depending your hotel location. You will then travel to Dalaguete to hike to Osmeña Peak.
Just right after Osmeña Peak, you will then traverse to the other side of Cebu, in Badian, where you will be doing the canyoneering activity.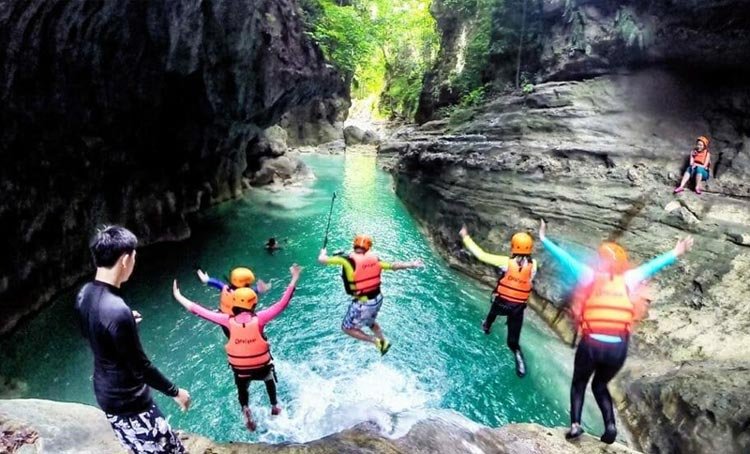 After the canyoneering activity, you will be given time to relax the Kawasan Falls and you will have your complimentary lunch too.
After this, you will be taken back to your hotel by our exclusive car transfer and experienced driver. Hope you enjoy your day!
You are almost there, please fill up this form below

0%
Compare Similar Tours & Experiences