Canyoneering Adventure and Kawasan Falls tour package will give you a chance to visit the two most famous attractions in Badian, Cebu. Our experienced driver will take you to Badian and you will meet your local tour guide there. With the assistance of the tour guide, you will do the canyoneering activity first. This activity is one of the most exciting and daring adventures in the entire Philippines. Canyoneering, also known as canyoning, involves walking, scrambling, climbing, jumping, rappelling, and swimming through a river either upstream or downstream.
After the canyoneering activity, you will be taken to Kawasan Falls which is considered as one of the most popular tourist destinations in the Philippines. Kawasan Falls comprise a series of three waterfalls with a very refreshing and crystal clear water.
Rates and Inclusions
No of Pax
Rate per Person
Details of the Package
1
₱ 6000

Inclusive: 

Private Air-Conditioned Transportation (12 hours, excess hours are subject for additional fees)
Private Trekking
Local Guide
Pick up and drop off in any hotel, resort and residences (Cebu City and Mactan Island)
Motorbike ride to jump off point
Entrance fees
Life jacket
Aqua Shoes
Helmets
Waterproof Drybag
Bottled Water
Complimentary Lunch
Government taxes and service charge (except payment transaction service charges)

Exclusions / Add-ons:

Camera Rental (P1000 for GoPro Hero7 and up – SD Card not included) – (bring micro SD Class 10)

2
₱ 3800
3
₱ 3400
4
₱ 2900
5
₱ 2800
6
₱ 2600
7
₱ 2550
8
₱ 2550
9
₱ 2450
10
₱ 2400
11
₱ 2300
12
₱ 2300
13 above
Contact Us
Sample Itinerary:
05:00 AM – Pick up Hotel
07:30 AM – Arrival in Badian
08:00 AM – Breakfast (own expense)
08:30 AM – Start of Canyoning
01:00 PM – End of Canyoning  at Kawasan Falls
01:01 PM – Lunch and Swimming at Kawasan Falls
02:00 PM – Departure back to Cebu City
05:00 PM – Estimated time of arrival in Cebu City
Note: This is just an estimated time. Might changed on the tour date depending on the traffic situation and location of your hotel.
What to expect
This package starts at 5 o'clock in the morning from your hotel in the city. You will meet our driver at the hotel lobby and you will drive directly to Badian to meet our local tour guide for the canyoneering activity.
You will then do the canyoneering activity, which will take 3-4 hours depending on the pace. Just jump, don't be scared. 🙂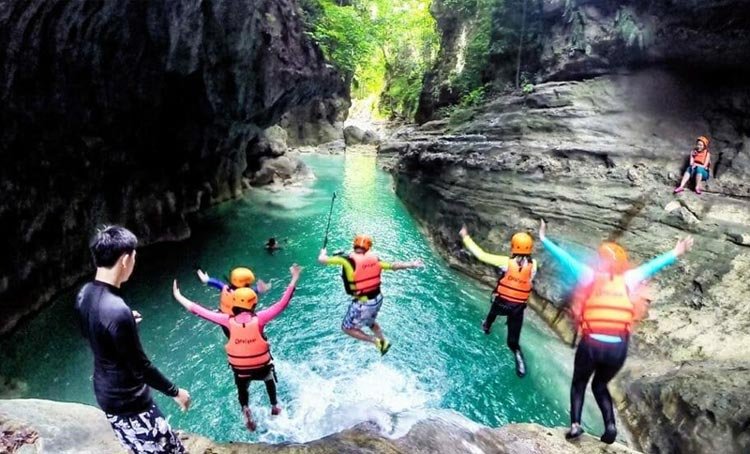 Once you reach the end of the activity, which is the Kawasan Falls, you can relax there for a while and you will be eating the complimentary lunch too.
Lastly, after all the activities, you will then back to your hotel by our private car and experienced driver. Hope you had a great adventurous day!
You are almost there, please fill up this form below

0%
Compare Similar Tours & Experiences