The Whale Shark and Sumilon Island daytour package will give you many unforgettable memories with the most visited tourist spots in Oslob, Cebu. As the driver will take you to Oslob, you can enjoy the scenic 2-3 hour ride. You will be doing the whale shark activity first. With the assistance of our local tour guide, you will have a great time watching and swimming with the gentle giants. They are really friendly even if they are considered as one of the most biggest fishes in the sea.
After the whale shark experience, you will be brought to Tumalog Falls, one of the most visited waterfalls in Cebu. Tumalog Falls is a big waterfall with a breathtaking view, refreshing and cold water, and a good place for taking nice pictures. This tour activity will be followed by the Sumilon Island day tour which is done in Sumilon Island.
Rates and Inclusions
No of Pax
Rate per Person
Details of the Package
1
₱ 9500

Inclusive:

Private Air-Conditioned Transportation Pick up and drop off in any hotel, resort and residences (Cebu City and Mactan Island)
Native Light Breakfast at the partner restaurant in Oslob
Entrance and whale shark watching or snorkeling fees
Boat ride and life vest
Cool down at Tumalog Falls
Sumilon Island Day Tour

 Round trip shared boat transfers from mainland to Sumilon Island and vice versa
 Lunch at Pulo Restaurant, Kayaking, Nature trekking, Fish Feeding, Snorkeling at island sand bar with free use of mask and snorkel.

Buffet Lunch available on weekends only. Consumable of ₱800 (adults) and ₱400 (5-11yo) for food & drinks on weekdays.

 Use of resort facilities including beach, infinity pool, picnic grove, payag and shower rooms
Access to Sumilon sandbar (closed every 3rd Wednesday of the month for rehabilitation)

Government taxes and service charge (except payment transaction service charges)

Rate Exclusions and/or Add-ons:

Camera Rental (P1000 for GoPro Hero7 and up – SD Card not included) – (bring  micro SD Class 10)

2
₱ 6400
3
₱ 5700
4
₱ 5000
5
₱ 4700
6
₱ 4600
7
₱ 4400
8
₱ 4300
9
₱ 4200
10
₱ 4100
11
₱ 4050
12
₱ 3950
13 above
Contact Us
Sample Itinerary:
03:30AM – Pick up Hotel (if in Mactan)
04:00AM – Pick up Hotel (if in Cebu City)
06:30AM – Arrival in Oslob then Breakfast
07:00AM – Whale shark watching or snorkeling with whale sharks
08:00AM – Cool down at Tumalog Falls
09:30AM – Departure for Sumilon Island
10:00AM – 3:00PM – Sumilon Island Tour with Lunch
03:30PM – Departure back to Mainland
04:00PM – Departure back to Cebu City
07:00PM – Estimated time of arrival in Cebu City
Note: This is just an estimated time. Might changed on the tour date depending on the traffic situation and location of your hotel.
Note: Cut off for Sumilon island day tour package is 4PM a day before.
What to expect
You will be picked up by our driver from your hotel at 4am or 3:30am (if in Mactan area), drive all the way to Oslob to have your light breakfast.
After your light breakfast which is included in the package, you will be doing the first activity which is the whale shark watching.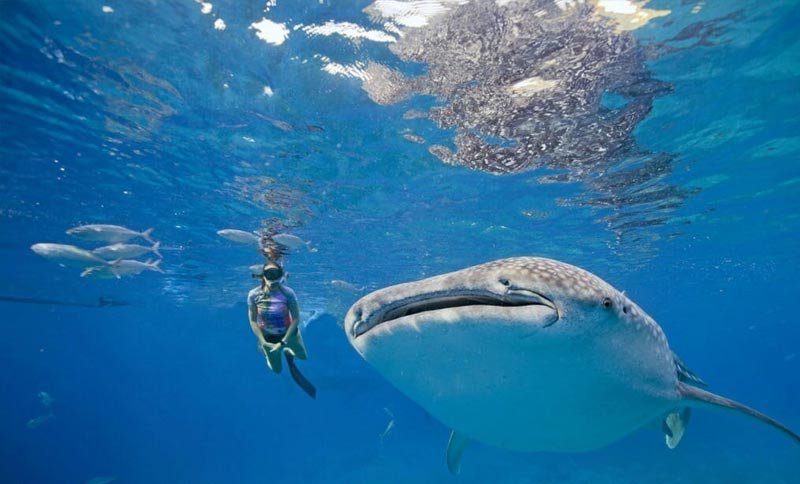 You will then visit Tumalog Falls right after the whale shark encounter.
Right after Tumalog falls, you will be doing the Sumilon island day tour.
So, that's it, hope you had a great day!
Whale Shark Watching + Tumalog Falls + Sumilon Island Day Tour
Average rating:
4 reviews
Oct 14, 2022
So pretty that I want to sleep one more night on Sumilon Island
He was picked up at the hotel at 4 am. It took about 3 hours to get to Oslob. Upon arrival, we had a simple breakfast with mango and toast. The whale shark was very large. The island is so pretty and there are so many things to see, so if I go to Cebu again, I want to go to Sumilon Island again! Lunch is not a buffet, you can order it at a restaurant that costs 500 pesos per person, but we ordered more and paid an additional fee!
Sep 9, 2022
We were enjoy to watch the whale shark
We were enjoy to watch the whale shark on time! A lot of whale Sharks can watch don't worry ! Driver and guide tour very nice ! Tour guide is a girl very beautiful haha! Wonderful trip will remember forever ! Sumilon Island very beautiful like a big paradise in the world !
Jul 19, 2022
Come to Cebu
Come to Cebu must be experienced. The whale shark is a big one. quite splendid. Sumilon Island is beautiful. If you have the opportunity, you will come again. The driver is very punctual, just three hours away from the ride, we want to vomit
Jun 9, 2019
This activity is worth it.
This activity is worth it. Although it is very early, but the early bird has insects to eat. We don't have to wait too long to come to us. Very many people, it will take a long time to wait. Sumilon Island is worth a look. Very Beautiful island.
You are almost there, please fill up this form below

0%
Compare Similar Tours & Experiences