Have you ever explored your locality in its entirety? Chances are, you have not. In fact, it is likely that you have missed certain hidden spots in your own place that will totally mesmerize you. That was what we experienced during our first trek of the year. We came across a stunning landscape that could only be described as perfectly fit for an enchanting fairy tale. That fantasy land was in our home island of Cebu.
When we asked our adventurer friend, Sir Sien, for recommendations for our first adventure for 2016, he suggested a day trek along a new trail he discovered that led deep into the highlands of Badian. The trail ends up a huge monolith called Candongao Peak in Badian, Cebu. We have been to Badian a lot of times, but we never heard of this place. So, together with a fellow adventurer, Apol, and a few of her friends, we excitedly agreed on a schedule. We also tagged our daughter Alexa along; this was her first real mountain trekking experience with us.
After having a hot, hearty, Filipino-style breakfast and buying our packed lunches, we negotiated with some habal-habal drivers to take us to our jump-off point at Sohoton Elementary School. Good thing Sir Sien was there; a trustworthy guide can always protect you from unscrupulous drivers, vendors, and service providers.
The ride to Sohoton Elementary School took around 30 minutes. We rode on unpaved, rock-strewn roads most of the way inland.
We spent a quarter of an hour getting ready for the trek and re-packing our things after arriving at the gate of Sohoton Elementary School. Sir Sien briefed us on what to expect on the trail. After a short prayer, we were on our way.
The first part of the trail is pretty exposed with little shade. However, we still enjoyed walking between fields of wild flowers. We also listened to the ever-diminishing Sunday-morning sounds of a mass in a nearby chapel, the loud voices of men betting on a cockfight, and the laughter of children playing in the coconut groves above us.
The exposed trail also provided us an encompassing view of Badian's coast. That is Badian Island in the distance, which is home to a number of first-class resorts. Strangely, we haven't visited that island yet even though we've been visiting Badian numerous times.
As the sounds of civilization faded into oblivion, we noticed that the woods became thicker. Sir Sien had told us earlier that this hike is nice as it takes us deep into a cool, shady jungle.
This is why we like trekking inside jungles. The thick vegetation filters the warm air and protects us from the burning rays of the sun. We also love the fresh, earthy scent that permeates in wooded areas.
Time for a much deserved rest after nearly two hours of trekking. The large, shady clearing allowed us to stretch our legs to relieve tired muscles during the gradual ascent.
We trekked for several minutes more until we came to a clearing. Note the tree-covered karst formations in the distance. These karst hills form the backbone of the mountain range separating the southern municipalities of Badian and Dalaguete.
The forest became thicker as we descended into a narrow valley. While massive trees towered above us, different species of large ferns covered the valley floor. Who says Cebu isn't green?
It's hard to believe that there is an artificial structure in the middle of this remote valley jungle. Locals have constructed a small concrete basin to catch cool mountain spring water that flows slowly through a narrow channel in the rocks. Covering the rock is a carpet of green, fine moss that acts as a natural filter for the water.
We have to tell you; fresh mountain spring water tastes a hundred times better than bottled water. And it's healthier too as it contains alkaline and mineral salts that are beneficial for the human body.
Vibrant wild flowers, buds, and orchids are abundant here. They add a welcoming dash of color in an ocean of green leaves.
Finally, almost three hours since we left the jump-off point, we exited the lofty forest and entered another variation of Badian's landscape. Just right in front of us were massive grass-covered karst hills that we saw as tiny humps on the highway to Badian.
Whoa! Is this Middle Earth where Frodo and Sam trekked on their way to Mordor to destroy the One Ring? No, this is part of the fertile central highlands of Badian where eight outdoor enthusiasts passed by on their way to Candongao Peak.
Untouched by human hand, these limestone karst formations are truly beautiful, don't you think? There are hundreds of these that line up the spine of the mountain range.
We found rock terraces like these on several gullies between the karst hills. These terraces are man-made; highland vegetable farmers painstakingly arrange rocks to form these steps. Terracing is necessary to reduce erosion.
Close to noon, we crested the shoulder of a grassy hill that gave us an encompassing view of the ridge. Check out those hills. They are somewhat similar to Bohol's world-famous Chocolate Hills.
There is a small peak right at the end of the hill, so we decided to check it out. Sweetie and Sir Sien stayed behind the shoulder to rest for awhile.
Happiness just below the clouds! From afar, this hill and those surrounding it seem to be made of loam or soft soil. But upon closer look, it is actually made of rough limestone. The verdant color comes from the grass, bushes, and foliage growing between the rocks.
What a view! We could see the whole municipality of Badian from here.
Check out those strange-looking trees. They look like sharp and spiky staghorn corals.
After spending half an hour on the hill, we continued on our way, following the gentle contours of the surrounding hills. Isn't that a beautiful sight?
Although we know that there's a farming community that strives in the highlands, we were still surprised to see this small community nestled between a group of hills. The remote community is comprised of just around five houses, all without electricity.
Sir Sien announced that we were close to our destination 15 minutes after we left the community.
Along the way, we saw large cabbage patches; healthy vegetables grow here because the soil is significantly less acidic than in the lowlands. The perpetual presence of moisture also instigated the growth of healthy moss and lichen.
Look at that varied terrain of moss, grasses, foliage, and light woods. It's definitely an amazing earthy kaleidoscope.
Even at 12 noon when the sun was at its highest, dense fog still covered the entire landscape, making it surreal. We can make out a large but faint rock formation just right ahead of us.
To give you an idea of the size of this humongous monolith, check out our fellow hikers in the photo below. Our destination is on top of that rock.
After a relatively gentle ascent, we arrived at this nice open-air shed right across the summit. It was time to put down our packs to relieve the pain of our aching shoulders and backs. We took out our packed lunches and gobbled them here.
Welcome to rocky Candongao Peak! When we arrived there, the cold, wet fog was still thick. The lack of visibility poses real danger because on all but one side of the summit are ridges that plummet down to hundreds of feet!
Wait, there's a slightly higher grass-covered peak right at the side of Candongao Peak. Let's check it out. Note the extremely steep cliff at the right side of the photo.
Here's a better view of rocky Candongao Peak. See the steep cliff? Now imagine if you make the misfortune of mis-stepping to the left…
Like a stage curtain, the oppressive fog lifted slowly as the temperature rose. After an hour of waiting, we finally saw an encompassing view of the neighboring municipality of Dalaguete, the Vegetable Basket of Cebu. A huge percentage of vegetables sold in the market comes from this municipality.
This is just a very small portion of the Vegetable Basket; the collection of farms envelops several valleys in Dalaguete.
Sir Sien said there is a shorter but vastly steeper way to Candongao Peak via Dalaguete. He playfully called this path 300 Steps.
Contrasting the busy farm-checkered landscape of Dalaguete is the fairy-like terrain and numerous karst formations of the highlands of Badian. True, there are farms here but not as vast as those in Dalaguete.
Directly below and south of Candongao Peak is this stunning knife-edge ridge that leads to other peaks along the mountain range's spine. We would love to follow that ridge on an exploration climb.
Oh, now that is really scary! The south face of Candongao Peak is a massive, lichen-covered vertical wall that drops hundreds of feet down. Abseiling, anyone?
After spending for more than an hour admiring the beauty around Candongao Peak, we carefully descended the monolith. We told our habal-habal drivers to pick us up at 1PM, which unexpectedly, was also the time we went down the monolith.
Without the fog, we can see the entirety of the towering Candongao Peak. Well, not in its entirety, actually. The south face, which is not visible in this shot, still goes way below that slope.
Rather than backtracking, we followed a long, circuitous trail that took us back to our jump-off point. The trail, having a consistent descent, was a real knee-breaker. By the time we reached our jump-off point at 2:45PM, our knees were ready to give up.
Good thing our habal-habal drivers were still waiting for us when we arrived. We gave them a tip for their patience.
Check out this video of our trek to Candongao Peak.
After a hard day's climb, it's time for a well-deserved reward! After buying some chips and drinks at a local 7-11, we headed to Lambug beach to relax and freshen up while watching the cloud-covered yet majestic sunset of Tañon Strait.
Our trek to Candongao Peak was a pleasant year starter. But more than that, we never imagined there was a lovely, fairy-tale-like land in this part of Cebu. The landscape is truly spectacular and worth visiting. Hopefully, the serene beauty of this patch of Badian will be preserved for many generations to come.
Itinerary
4:30 AM – meetup at Cebu South Bus Terminal
5:00 AM – depart Cebu South Bus Terminal
7:30 AM – arrive at Badian, breakfast
8:00 AM – ride habal-habal to Sohoton Elementary School
8:30 AM – arrival at Sohoton Elementary School, briefing, start trek
12:00 PM – arrive at Candongao Peak, lunch, picture-taking
1:00 PM – start descent
2:45 PM – arrival at jump-off point, head back to Badian town center
3:15 PM – take tricycle to Lambug Beach
3:45 PM – arrival at Lambug Beach, swimming
5:30 PM – depart Lambug Beach, wait for a bus at the highway
6:00 PM – ride a bus to Cebu
Budget*
P 126 – air-conditioned bus fare from Cebu to Badian town center(same rate applies on the return trip)
P 50 – habal-habal ride from Badian town center to Sohoton Elementary School (same rate applies on the return trip.)
P 20 – tricycle fare Badian town center to Lambug beach (same rate applies on the return trip)
TBN (to be negotiated) – guide fee
* We did not include our expenses for snacks, tips, and other fees in this rate sheet as you may have different needs, preferences, itineraries, and sharing scheme from us. Note that all figures are subject to change without prior notice.
Tips
1. For guideship services, contact Sien Kha Hey at 0922-6351960. You can also find him in Facebook. Please negotiate the guide fee with him.
2. It's quite difficult to get a ride from Sohoton Elementary School back to Badian town center. For convenience, ask your habal-habal driver to pick you up after your climb (see itinerary to have an idea on the time of your arrival). Don't forget to add a tip on your return trip since he either has to wait for you or ride from the town to the jump-off without a passenger.
3. This is a perfect adventure for cash-strapped adventurers. As you can probably infer from the estimated budget above, this trek is pretty cheap.
4. Certain parts of the trail are moderately exposed. Thus, don't forget to bring a wide-brimmed hat, scarf, or umbrella to protect yourself from the heat. Don't hesitate to tell the guide to stop if you feel exhausted.
5. Be careful at the peak. The rocks are slippery, and the peak is surrounded by steep cliffs on all sides.
6. Wear arm guards and trekking pants to protect your skin from the sun and prickly plants. Also, a dry-fit shirt or rash guard will help keep you cool.
7. Wear trekking shoes or sandals with an aggressive tread. You will need a lot of traction since you will be scrambling over loose soil and slippery rocks .
8. Bring salt tablets or ion-filled beverages such as Gatorade, coconut water, or fruit juice aside from water. The hot sun, multiple ascents, and exposed trails can make you sweat a lot. When you lose enough ions and salts via your sweat, cramps will occur. If cramps happen, rest for awhile, drink a lot of water or ionic drinks. This will replenish the ions in your system.
9. Bring energy-rich trail food such as nuts, crackers, bread, and bananas. Don't underestimate the mountain.
10. Pack light but do bring the following:
water (at least 2 liters)
trekking attire
trekking shoes or sandals with aggressive tread (terrain is rocky)
umbrella, hat, or scarf (terrain is exposed and hot)
packed lunch
trail snack
rain gear (in case of bad weather)
extra money for emergencies
11. Don't forget to waterproof your belongings. You can do this easily by wrapping your stuff with plastic bags or zip-lock bags before putting them inside your pack.
12. Please mind your trash; do not leave any of your garbage behind.
Thank you to AndrenalineRomance.com for this well documented trek. For the full posts and images, visit the original posts here.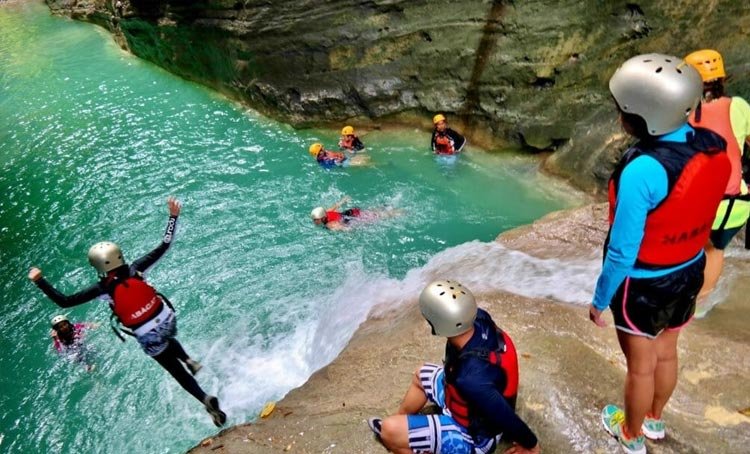 Price starts at ₱ 4400 / person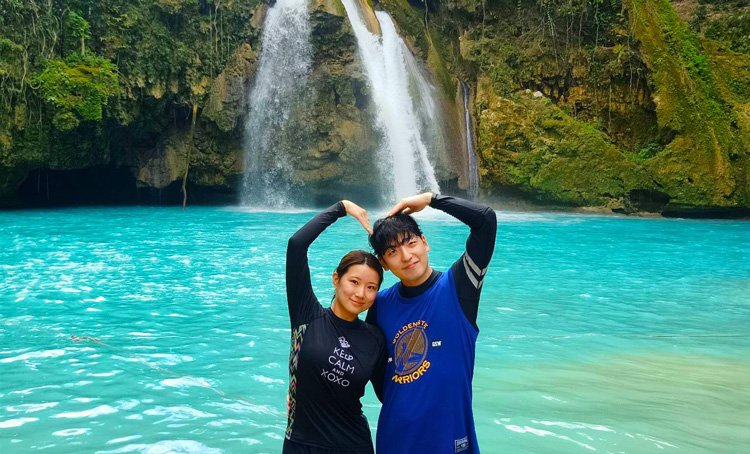 Price starts at ₱ 1300 / person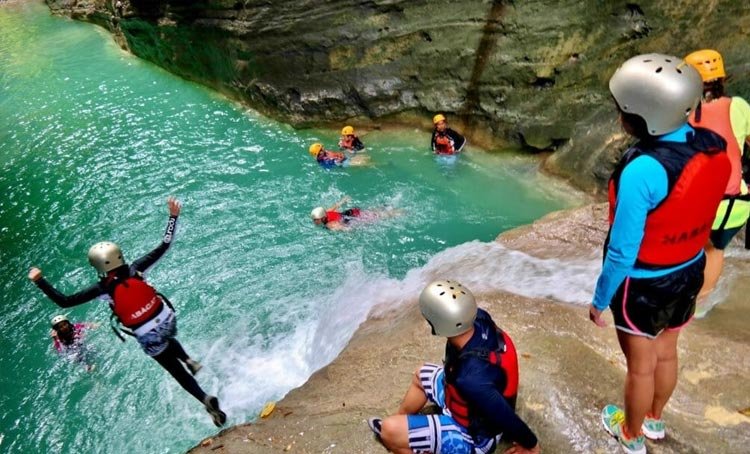 Price starts at ₱ 3500 / person